Bay Sox Welcome Shawn Manfredo and Bob Prince
The Bay Sox announced a pair of landmark hires Wednesday, adding coaches Shawn Manfredo and Bob Prince to their staff as the club expands its showcase program throughout southern New England.
Both Manfredo (Fitchburg State) and Prince (UMass Dartmouth) are NCAA head coaches and previously led the Coastal Baseball Travel Program. They will now be responsible for the administration of the Bay Sox Showcase Program ages 15-18, along with other members of their staff.
"The addition of coach Manfredo, coach Prince, and members of their staff makes Bay Sox Baseball the South Coast's undisputed leader in showcase travel baseball with the most experienced staff," Bay Sox director Dave Ulmschneider said. "We're eager for them to join the team."
Manfredo and Prince boast longtime ties to the region. Prince has spent more than a decade as head coach at UMass Dartmouth, a stint that includes four 20-win seasons. Manfredo worked under Prince for nine seasons as his Associate Head Coach, Recruiting Coordinator and Pitching Coach until assuming Fitchburg State's head coaching job in 2020. Both also have extensive history working in the Cape Cod League.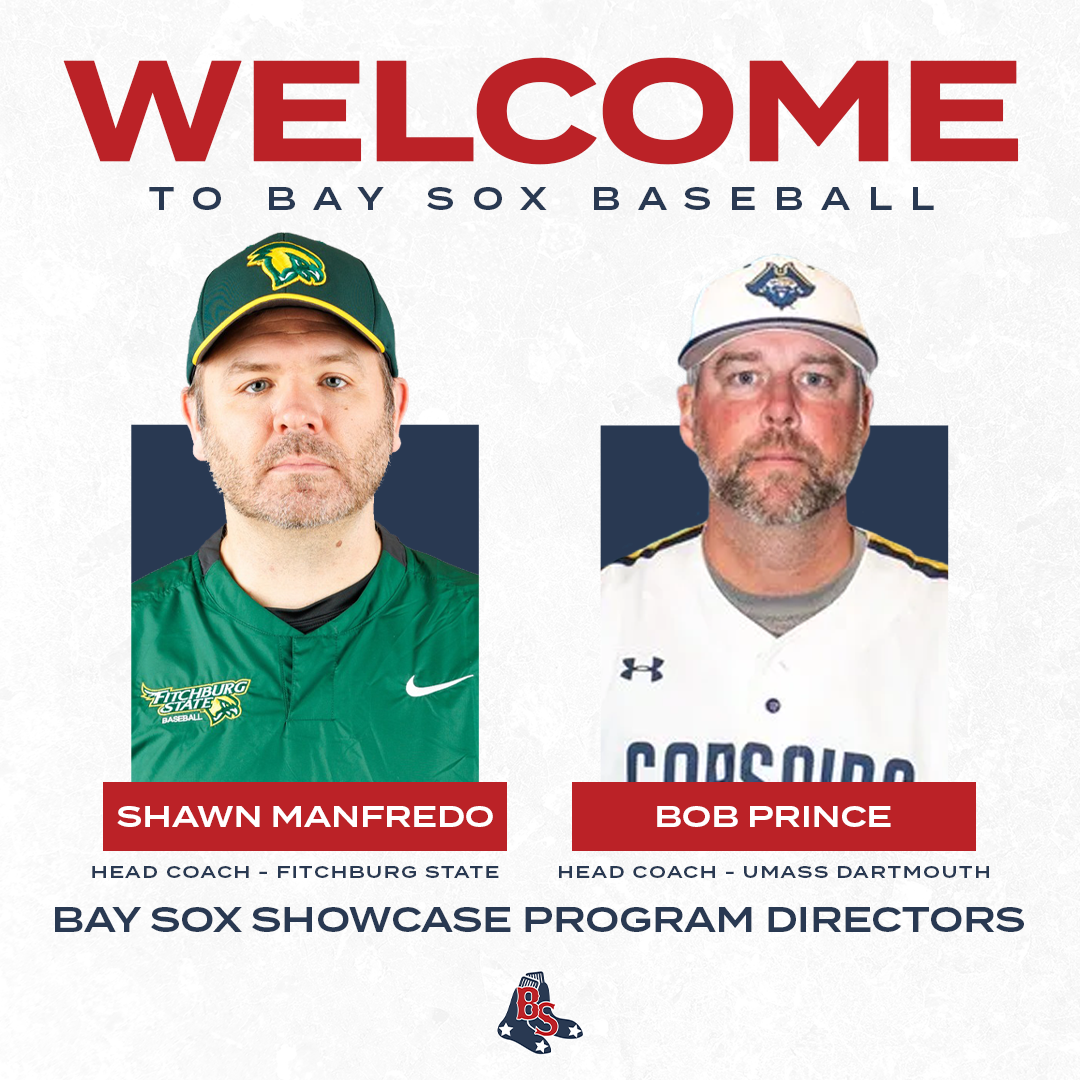 Ulmschneider said adding both to the Bay Sox program is a considerable asset for high school players hoping to play college baseball.
"The three of us have a shared vision for how to help our players get recruited and take the Bay Sox to the next level," he said.
Both Manfredo and Prince have established reputations as strong tacticians and recruiters.
Manfredo was named the 2021 MASCAC Coach of the Year after guiding Fitchburg State to a regular season conference championship in his first full season. His track record of pitching development includes working with multiple future professionals at UMass Dartmouth, and he worked as the pitching coach for a Hyannis HarborHawks Cape Cod League pitching staff in 2015 that included four future major league starters – Aaron Civale, Dakota Hudson, Michael King and Devin Smeltzer.
"I'm excited about the opportunity to join the 3STEP family and to work with players and families on the South Shore," Manfredo said.
"Helping families navigate the difficult and changing scope of college baseball recruiting while focusing on growth and player development is something that we will excel in."
Prince helped restore UMass Dartmouth's reputation in the Little East Conference, a stint which includes helping develop the Little East Conference's Player of the Year (Ryan Medeiros) in 2014, and serves as the Wareham Gatemen's general manager in the Cape Cod League.
"I'm excited to be combining with the Bay Sox as they have established themselves as one of the premier travel programs in Southeastern Mass and Rhode Island," Prince said.
Together, the duo plans to lead the Bay Sox expansion at the high school level across Southern New England. Looking to join the Bay Sox program? Find tryout registration information HERE.